BIO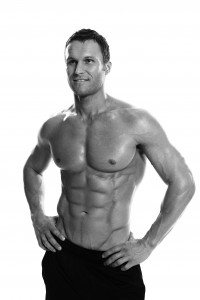 Nerijus Bagdonas is a strength and conditioning coach, personal trainer, fitness model and the creator of the Train P3 Training Method. Both a former competitive martial artist in Tang Soo Do Karate and NPC Bodybuilder, Nerijus has been officially coaching people of various ages and athletic abilities since 1998. However, his desire to be a leader in fitness was evident when at 9 years old he used to personally wake up his friends in Vilnius, Lithuania to do high intensity workouts that included sprints, agility drills, kicking drills and even the splits.
Nerijus moved to the US in his high school years, and in 2002 he graduated from Penn State University. He earned a B.S. in Kinesiology and worked under the collegiate strength coaches. His fitness education has continued until the present. He now holds numerous training certifications including ACE (1998), NASM (2002), and ACSM (2002) and performance coaching certifications from NASE (2009), USAW (2009, 2011) and NSCA CSCS (2011).
"IMPROVING ATHLETIC PERFORMANCE IS BOTH HUGELY EMPOWERING, AND THE KEY TO A WELL-SHAPED PHYSIQUE."
On a whim in 2010, in his first attempt at modeling, he entered and won the
Wilhelmina Hot Body Model Search
and has since appeared in commercials, ad campaigns, and magazines.  He has been a regular in
Men's Fitness
,
Muscle and Fitness
,
Men's Health, Met-Rx magazines
 and more.
Nerijus believes that improving athletic performance is both hugely empowering, and the key to a well-shaped physique; "In order to look like an athlete you must become one." With this premise, he developed the Train P3 – Performance, Power, Physique training system. After many years of personal training, he successfully created a method that introduces non-athletes to their athletic potential and helps his elite clients stay injury free and perform better at their respective sports.
Education/Certifications:
University Degree
B.S. in Kinesiology from Penn State University (2002)
Sports/Performance Coaching
NASE – Speed and Explosive Specialist (2009)
USAW – Sports Performance Coach (2009) – Club Level 1 (2011)
NSCA – CSCS (Certified Strength and Conditioning Specialist) (2011)
TFW – Level 1 (Training For Warriors 2014)
FRC – (Functional Range Conditioning 2016)
Personal Training
ACE – Certified Personal Trainer (1998)
NASM – Personal Trainer (2002)
ACSM – Health and Fitness Instructor (2002)