WE BELIEVE THAT EATING WELL IS A MATTER OF GETTING TO KNOW YOUR BODY AND FUELING IT WITH REAL, WHOLE FOODS.

THE DETAILS
✓ ONLY $29
✓ 30 PAGE FULL COLOR HIGH QUALITY DIGITAL PDF
✓ INDIVIDUALIZED PROCESS FOR YOUR UNIQUE BODY TYPE AND SPECIFIC GOALS
✓ COVERS COMMON MISTAKES PEOPLE MAKE WHEN TRYING TO GET LEAN
✓ INCLUDES EXAMPLE MEALS & SHOPPING LISTS
✓ GIVES ACTION STEPS TO GET YOU STARTED AND TAKE YOU TO THE NEXT LEVEL
A LOOK INSIDE THE TRAIN P3 NUTRITION GUIDE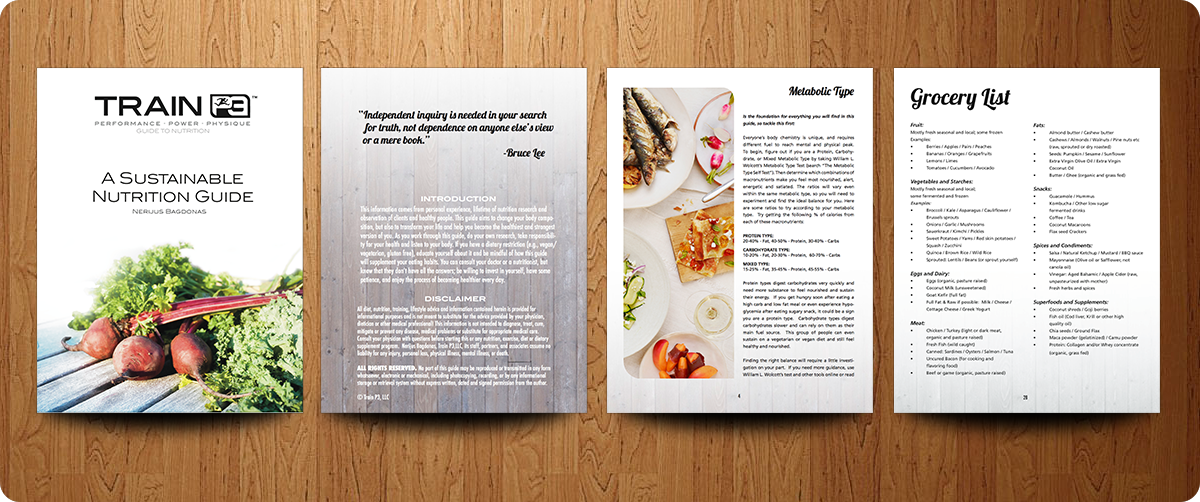 While there are an enormous amount of things to know about nutrition, you don't need a nutrition degree to start eating well and getting results. To help you get started, we have developed an easy-to-follow, nutrition guide that will make a difference in how you eat, feel, and look!  
In this holistic and sustainable guide to nutrition, we guide you through fundamental nutrition concepts and help you figure out your metabolic type, food quantity and timing that works best for your specific body type.  We give you tips ranging from pre and post training nutrition to supplementation and how to avoid most common mistakes.  We provide an example meal plan, grocery list and steps to get started or take your nutrition to the next level.


WHO IS IT FOR
This guide is not meant to treat or diagnose any health issues.  If you have serious digestive or autoimmune issues, we recommend you work with a health practitioner to help you detoxify and stabilize your digestion and food absorption before you use our guide.  Our guide won't hurt, but you may not get the results you are looking for.
Our guide is designed for anyone—even if you have an allergy, are vegetarian/vegan, paleo, gluten free, or have some other food-related concerns, there's something in it for you.
HOW IT WORKS
This guide is NOT a quick get ripped scheme!  This guide is not about counting, obsessing or micromanaging your every calorie.  It's not about eating low fat or starving yourself to get lean.  It's not about adhering to a specific dogma, eliminating food groups or sticking to a rigid macronutrient ratio.  We believe that every person will respond differently to the same diet.  That is why this guide leads you to develop an individualized, holistic and sustainable plan that you can enjoy and maintain for the rest of your life.  You will be surprised how much food you can eat, how enjoyable it is to maintain your plan and how good you feel.  Of course if your current meal plan is filled with croissants, packaged food, and daily alcohol binges, this will be a significant adjustment.  We encourage you to approach this guide with curiosity and willingness to put some effort in finding the plan that works with your unique body and helps you feel nourished, energetic and satiated.  We are certain that once you start feeling and seeing results, maintaining your plan will be effortless and fun.

ABOUT THE AUTHOR
This guide was written by the Train P3 founder, movement coach and fitness model, Nerijus Bagdonas.  He used these principals to get and stay lean for shoots with magazines like Men's Health, Muscle and Fitness, Men's Fitness, Met-Rx, Vitamin Shoppe and other publications as well as being on the magazine covers, billboards, commercials, infomercials and print adds.  More importantly, Nerijus stays lean and healthy around the clock using the exact guidelines explained in this guide.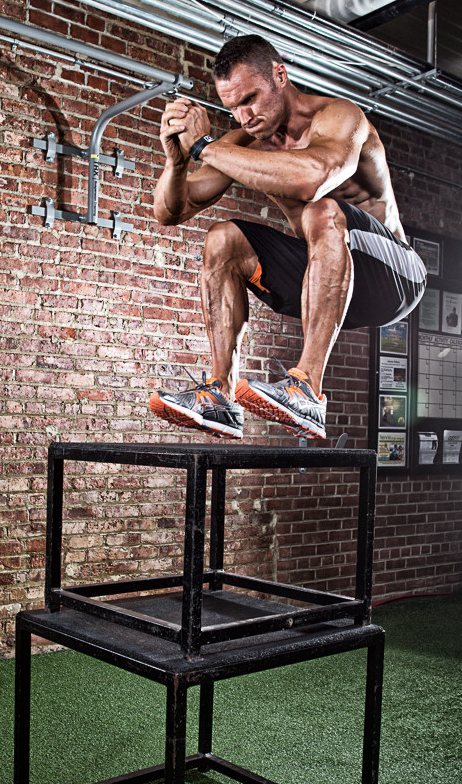 Nerijus has a B.S. (2002) in Kinesiology from Penn State University andholds numerous training certifications including ACE (1998), NASM (2002), and ACSM (2002) and performance coaching certifications from NASE (2009), USAW (2009, 2011), NSCA CSCS (2011), TFW (2015), and FRC (2016).  He has specialty training with kettlebells, gymnastics, animal flow and has trained with Ido Portal and other movement specialists.  Nerijus is a former competitive martial artist in Tang Soo Do Karate and an NPC Bodybuilder.  Nerijus has been coaching people of various ages and athletic abilities since 1998.  You can learn more about Nerijus his training method at TrainP3.com.
This guide has been used and tested by all Train P3 athletes who undergo the Train P3 6-Week Transformation program which helps them lose as much as 30 lbs of fat and maintain a lean physique months and years after the program.
TESTIMONIALS
Check out what our students say about our nutrition guide, and check out their amazing results!
In the six weeks while using Nerijus' program and his invaluable diet advice,  I lost 10 pounds of fat, gained 5 pounds of muscle and dropped my body fat percentage by 4%!  Friends now comment how good I look and I feel more confident and strong!
I have lost 40 pounds, gained 6 pounds of muscle, and have completely changed the way I exercise and what I eat. I have more energy, I look great, and I have an overall better outlook on life.
I recently completed a 6 week intensive regimen, with nutritional guidelines provided by Nerijus. I lost 6 pounds of fat, gained 3 pounds of muscle and lost 3% of my body fat! And that was just SIX WEEKS! I'm eating healthy, I feel energized and I'm in the best shape of my life. The most important thing I've learned is that "dieting" doesn't work. If you want to get in shape and feel great, you need a lifestyle change. You get that with Train P3.
I was fortunate to complete a rigorous 6 week TrainP3 program of intense training and food education. The result was nothing short of amazing. I lost nearly 5 lbs of fat, and gained nearly the same in muscle. More importantly, I learned more about my body and nutrition then ever before. With the incredible instruction, support, and coaching from Nerijus, I gained the knowledge and confidence to maintain this healthy lifestyle.  I am the fittest I have ever been and my lifestyle is the healthiest it is has ever been.
I had no idea how quickly I'd see results. In six weeks, I went from 10.52% body fat to 7.61%. I lost 4.5 pounds of fat and gained 6.5 pounds of muscle. The food I eat tastes better than ever before and the sleep I get is deeper. I'm healthier, stronger, more confident, and I can't seem to keep my wife's hands off of me (not that I'm trying). If you're willing to put forth the hard work and dedication, Nerijus will guide you to the results you're seeking.
TRAIN P3 IN THE MEDIA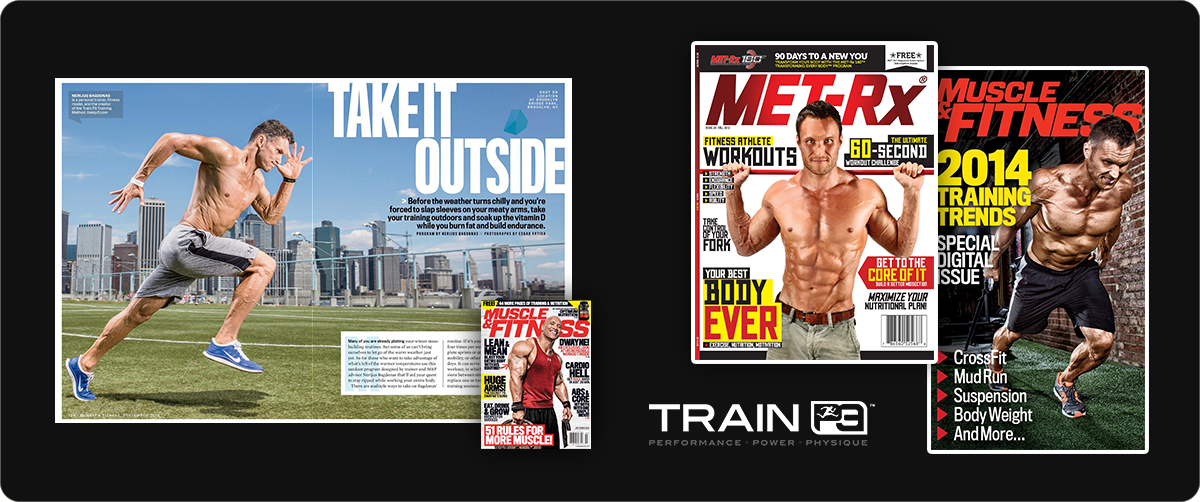 The Train P3 Nutrition Guide is a sustainable way of eating to help you get lean and feel awesome! Now only $29.